Today received a communique from Brian Belfit at Blog Engage.  He's offering a package deal for THIS MONTH ONLY that should tempt any blogger who's been on the fence about BlogEngage.
Or perhaps you've never heard of Brian Belfit or Blog Engage?
What is Blog Engage?  
You know Facebook, right?  
On Blog Engage you pay a few bucks to become a member and start sharing your posts with top bloggers (and hungry wannabe top bloggers).  
You don't have to generate new content.  You submit your posts, even old posts, and they get the eyeballs of other Blog Engagers.
Blog Engage members vote for your post just by clicking.  You only show a summary blurb, so they need to go to your site to see the full article.  If your post gets enough votes, it goes up to the published posts.  Until then it stays on Blog Engage gathering attention until it can "graduate."
You can vote for other bloggers articles and hope they vote for yours (yes, "log rolling" is allowed).  
Or you can submit great material in the blogger's equivalent of Scwab's Drug Store and wait to "be discovered."
You can comment on posts, leaving sassy remarks like I do, or expressing your heartfelt gratitude for bloggers who share their hard-won blogging knowledge (yes, knowledge is available).  
One of my primary uses of Blog Engage is to discover active blog sites where I can read interesting posts and leave comments, including CommentLuv comments, which act as dofollow backlinks.  
I could drop some famous blogger names I've seen on Blog Engage.  If you are an active blogger, these are people you would recognize immediately and there are a bunch of them!
But I'm not going to drop names.  
I'll let you check out Blog Engage yourself.  Go ahead and leave a note on the Forum.  Click around.  You will see those famous bloggers I mentioned.

Blog Engage is fun and the members are friendly and supportive.  But, like you, they are there for a serious purpose.  They want to increase traffic to their sites.
And if you're like me, a newbie blogger just trying to crank out halfway decent original material, you are fed up with the cesspool of spammers, spinners, scammers, scalawags, bots and semi-literate knuckleheads who infest the Blogosphere ©.  
The small cover charge for Blog Engage acts as an effective filter.
What the point of all this posting and voting and "getting discovered" by active bloggers?  
I didn't really get it until I became a member and started to see the multiple benefits.  
The point of this post is that you can get more for your Blog Engage dollar if you act now.
"OK, I still don't really understand but I'm moderately intrigued," your're saying.  "What's these DEAL you were talking about?"
I'll let Brian explain in his own words:
"If you are considering our services this is the perfect time.  I'm making a Bonus offer for the rest of the entire month.
If you sign up to our $4.99 Gold or $9.99 Platinum membership I will offer the following deal to all new customers.
Bonus Syndication
We will include syndication to our entire portfolio, not only Blog Engage. This means we will build backlinks on 7 social media websites for you at a low cost of $4.99 and or $9.99 a month. If you have 1 blog subscribe to the Gold package, if you have three or fewer feeds subscribe to the Platinum membership.
If done before the end of month and we will syndicate your content into all our sites, normally a $19.99 USD value.
Social Media Marketing – Twitter
If you sign up to our $4.99 Gold or $9.99 Platinum membership we will share all your latest articles on both our @bbrian017 and @blogengageTwitter accounts with over 9000 followers daily. Trust me when I say this drives traffic I have a lot of real twitter followers that will love your blog content.
Social Media Marketing – Facebook
When you post a new article we will automatically share it with our Facebook fan page. We will link to your site helping spread the word you have new content. Our Facebook fan page has a lot of followers and is getting pretty active since I've started sharing all our customer rss articles. They are excited and want more blog articles to read.
This Month Only
The social Media Marketing and full 7 site portfolio deal is only for this month. When it's done the deal is no longer so don't miss out on maxing your Blog Engage investment."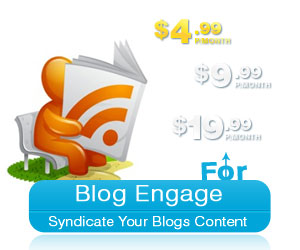 There you go.  Grab your Blog Engage deal before time runs out.